We are pleased to announce our new update (v3.4) is now available on both App Store and Google Play: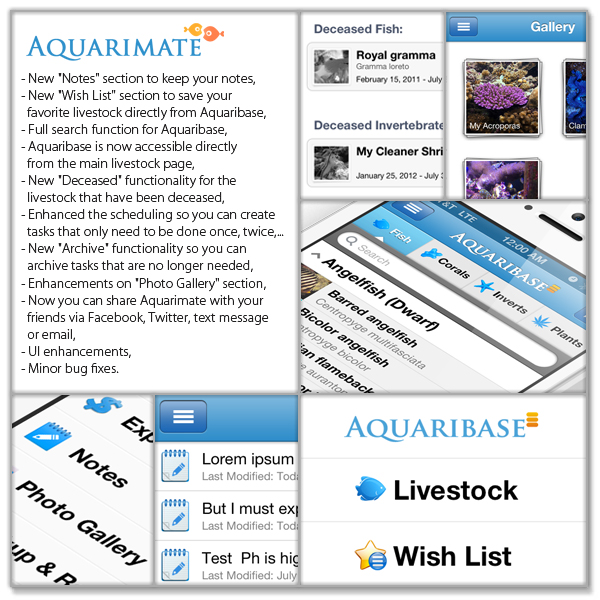 With this update, both Android and iPhone will have the same exact features. This will allow you to backup and restore cross-platform.
Below is the list of the features available on both iPhone & Android versions:
• Track multiple aquariums separately,
• Record your parameter test results,
• Use the timer to perform the timed test easier,
• Analyze your tank parameters with beautiful, fullscreen and touch responsive graphs,
• Plot results of multiple parameters in one chart,
• Create your husbandry tasks and set reminders for them with an advanced scheduling system,
• Track your activities integrated with tasks and reminders,
• Keep all your notes organized in the Notes section,
• Find information about your livestock in Aquaribase,
• Import and save your livestock information from Aquaribase for each tank,
• Add your favorite livestock to the built-in wish list directly from Aquaribase,
• Visually keep track of tank inhabitants with Timelines,
• Analyze the progress of your livestock, along with your logged activities and test results, with Timelines,
• Store your tank equipment,
• Keep track of your expenses,
• Create photo galleries and organize all your photos in different albums,
• Backup & restore your app data wirelessly on Aquarimate Cloud.


Please update your app and let us know your opinion. We would love to hear from all of you.
-Aquarimate