There have been several reports that members are having trouble accessing the AA chat rooms.
This recent issue has to do with Java (the software the drives the chat application) heightening their security measures in order to better protect users against malicious attacks on the internet. Because of this, you will now have to do a bit of configuring both in your browser as well as your Java control panel, in order to resume using the chat application.
The following instructions are divided into sections that pertain to three of the available browsers: Chrome, Firefox, and IE.
If you are unsure about what version of Java you have running you can check by visiting the java site verification tool here:
https://www.java.com/en/download/installed.jsp
. Once you have updated your Java version you may begin by checking to ensure that your browser is not set to automatically block Java applets.
In
Internet Explorer
1. Open your browser and go to
Internet Options
(the gear-shaped icon in the upper right corner)
2. Next select the
Security
tab on the top, and click the
Custom Level
button towards the bottom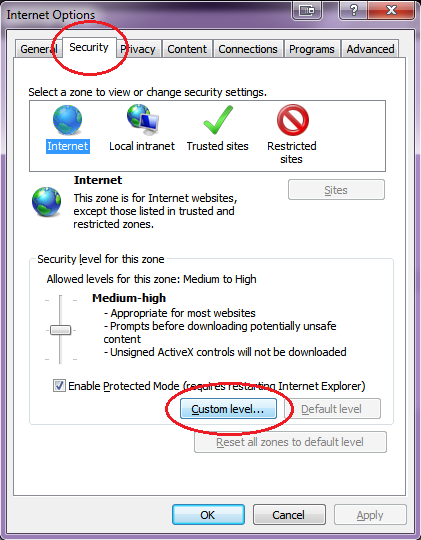 3. Now scroll to the section that handles the scripting of Java applets. Here you should make sure that this option is not set to disable. It should be either
Enable
(automatically allows Java to run) or
Prompt
(asks you each time to allow/deny.)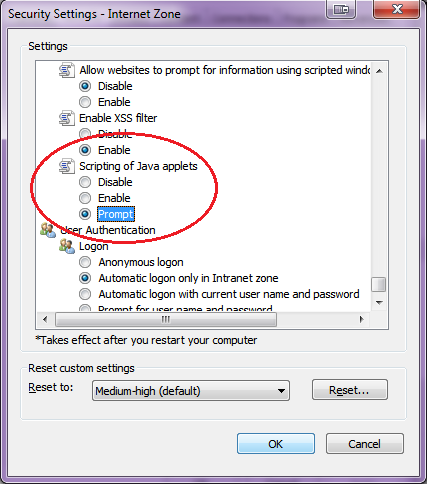 In
Chrome
1. Open your browser, and type in the address bar:
chrome://plugins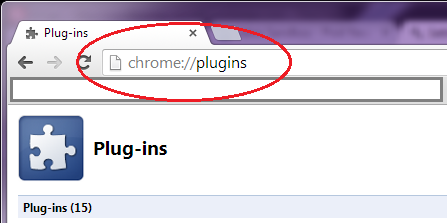 2. Navigate to the Java plugin and ensure that it is not disabled (grayed out.) Here, if you have the
Always Allow
box checked, it will automatically run Java without asking you. If the box is not checked, Chrome will prompt you to give permission each time.

In
Firefox
1. Open your browser, and go to the
Add-ons
settings.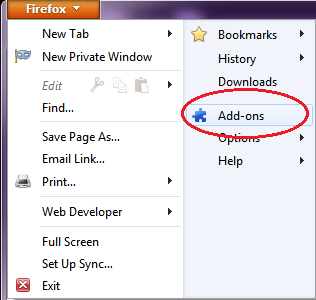 2. Select the
Plugins
tab on the left-hand side, and navigate to the Java plugin. Make sure that you either have
Ask to Activate
(will prompt you each time Java tries to run) or
Always Activate
(automatically runs without asking you.)

Now that you have verified that your browser is not blocking Java, the final step is to add a couple of site names to the Exceptions list within the Java Console itself.
First, you will need to open up the Java Console.
In
Windows
1. Go to
Start
and search:
configure java
In
Mac (OS X)
1. Click the
Apple
icon in the upper left of the screen
2. Select
System Preferences
3. Select the icon for the
Java Control Panel
The next thing you are going to want to do is select the
Security tab
and then the
Edit Site List
button.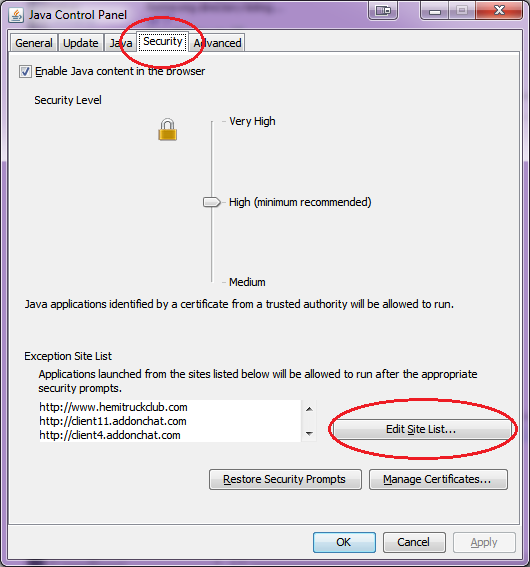 Now you will need to add two separate entries to this exception list:
1.
http://www.aquariumadvice.com
2.
http://client11.addonchat.com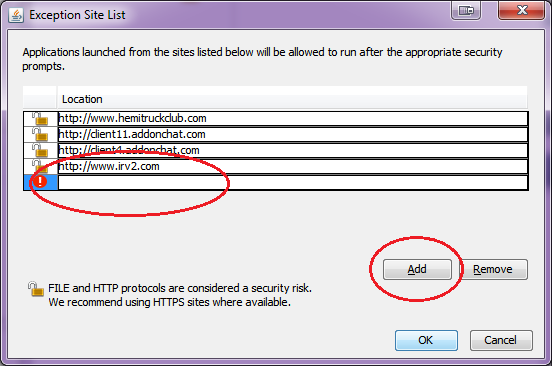 Now click Ok, accept the following prompt, and exit the Java Console.

Lastly, you will want to reopen your browser. Now when you navigate to the chat section, you will be prompted to run the Java application. Click

Run

, and you should be all set.

__________________