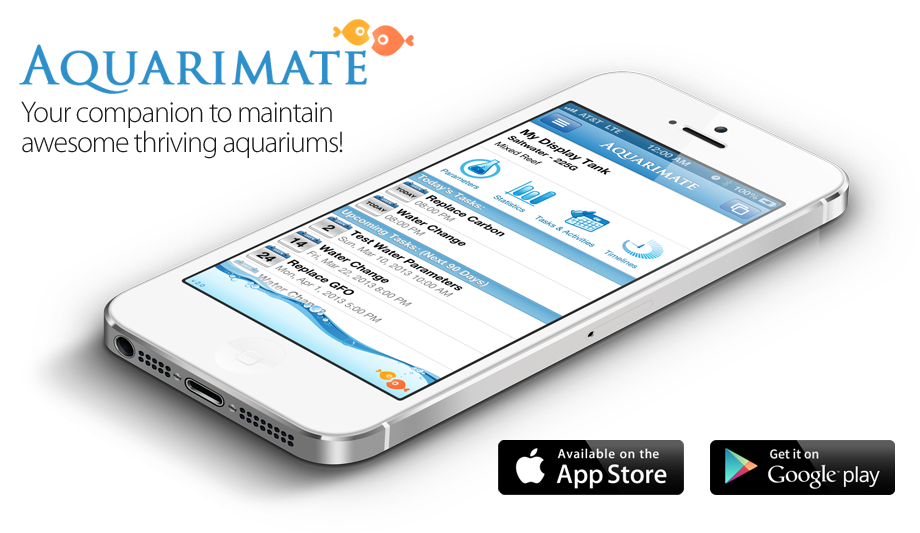 Here's the a list of features:
• Designed for both Freshwater and Saltwater tanks
• Keep track of all your aquariums separately.
Parameters & Statistics:
• Record all your test results along with notes about each test,
• Add new parameters or edit existing ones to customize your test sheets separately for each tank,
• Use the timer to accurately perform timed tests,
• Analyze your tank parameters with beautiful graphs,
• View the history of the parameters in a fullscreen and touch responsive graphs,
• View multiple parameters in one graph to analyze the correlation between the parameters,
• Zoom/Pan/Scale the graphs to better focus on points you need

Tasks & Activities:
• Create Tasks and set Reminders for husbandry routines,
• Get reminder whenever a task is due,
• Track upcoming tasks in the dashboard,
• Log your activities for each of the tasks you perform,
Livestock:
• Enter your livestock information for each tank,
• Use Aquaribase to find information about your livestock and import them to your tank.
• Visually keep track of tank inhabitants with Timelines,

Timelines:
• Track each one of your inhabitants with timeline, add notes along with photos in diary format.
• View your timeline including your notes and images along with your activities and test results.
• Build timelines for your notes and observations.
Equipment:
• Keep track of your tank equipment,

Expense Tracking:
• Keep track of your expenses,
• Enter your expenses for each item you buy,
• Enter information about your purchase, like location, date, etc.
Photo Gallery:
• Create photo galleries,
• Organize your tank photos in multiple albums all in one place.
• Showcase your tank easily within the app. No more cluttered tank photos in your camera library.
Backup & Restore:
• Backup your app data in Aquarimate Cloud.
• You do not need to connect to your computer, you can backup via WiFi and 3G/4G/LTE connections.
• Restore anytime you need.
• You can backup your data from iOS platform and Restore on Android or vice versa.
• All your data is covered in the backup including all the tasks and schedules.
Get Support:
• Get support 24/7 via in-app support section.
• 100% Satisfaction guaranteed. If you are not satisfied, we refund your purchase.
Visit our website
www.aquarimate.com
for detailed information about the features.