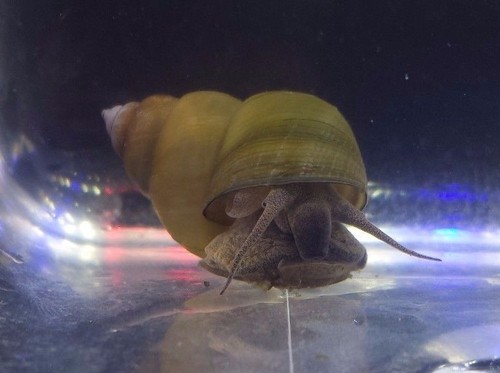 This auction is for 5 Snails per purchase!
Theres are Green trap door snails. About the diameter of a nickel, they can grow a little bit bigger.
*Privet bread,
*No factory farming,
Raised in a community tank from birth with other community fish
I can now ship the fish! For $10 flat cost to everyone in the 48 continental United States, you get
*Breather bag
*ammonia reducing pads
*2-3 day shipping from USPS
I can combine shipping to an extent. please inquire about it before purchasing.
I only ship on mondays and tuesdays for the safety of the fish. Please make sure you can be at your location to accept the fish the day they come!
DOA guarantee
There is no way to tell if your snails are dead on arrival without killing them. Snails sometimes remain dormant after shipping for 2 or 3 days. We will refund all dead snails on the condition you provide CLEAR photographs of the snails removed from their shells. A dead snail should slide out of it's shell with no effort. Waiting 3 to 5 days after a snail has stopped moving and this should happen on it's own in the tank.
Local pickup is 100% free!!!
$10 for 5 snails. $10 shipping via USPS priority mail.